How to teach any subject outdoors at secondary school | Ask Educators
We asked secondary school educators to share their strategies for outdoor learning across every subject.
As part of a series for newcomers to outdoor learning, we've covered why you should teach outdoors and how to get started in any educational setting, along with some essential knowledge for early years outdoor learning and advice on overcoming the barriers to teaching outdoors at primary school. For the final post in this series, it's time to talk about outdoor learning at secondary school.
It's true that teaching outdoors can present unique challenges at secondary school, especially when a subject doesn't seem to lend itself to the outdoor classroom at first glance. However, the health and wellbeing benefits of outdoor learning are especially important for young people navigating this uncertain time in their lives.
Fortunately, it is possible to teach every subject outdoors – and we're here to help! For this post, we asked secondary school educators and LtL experts to share their advice for newcomers to outdoor learning. We sorted the responses into a number of categories, homing in on some outdoor learning strategies, tips, and tricks which apply to any subject at secondary school.
Visit our secondary hub for outdoor lesson ideas, training, and guidance specific to outdoor learning in your setting. But first, let's explore how to teach any subject outdoors at secondary school. We'll get to some useful tips and tricks in a moment, but let's start with some broad advice.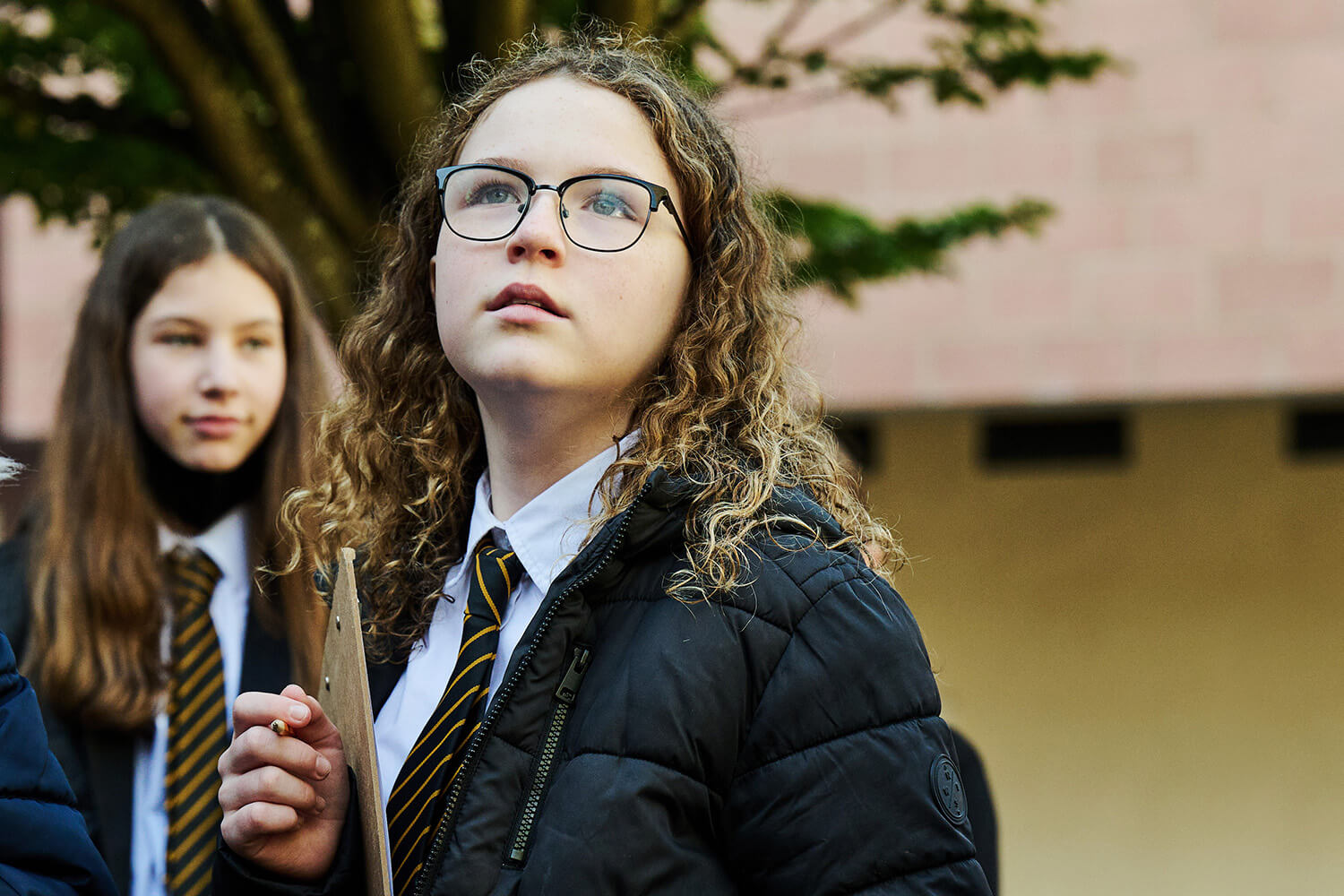 Get other adults and members of staff involved
"Be ready to make use of people who are not teaching staff! You may even want to source specific curriculum materials or knowledge from specialists in the local area, e.g. historians, geologists, or storytellers."
— Jane, educator for community groups and organisations in Ely
If you're not used to managing groups outside and you're worried about gathering pupils in a big open space, ask the sports teachers to share some tips and tricks with you. Their techniques are already familiar to your pupils, so they'll know what to expect when they hear the whistle, for example. If you need to build your confidence before taking a lesson outside, why not hold a team meeting outdoors and use it as an opportunity to try out your activities with colleagues?

— Cindy Grant, Training and Development Officer at Learning through Landscapes
"Consider joining a scout group or similar organisation that can help with gaining experience outdoors. Think around risk-averse senior leadership teams – maybe even get them involved once you feel fully competent! Just make sure that every adult involved knows what they're going to do; is dressed for the event; has gone through emergency procedures; and, most importantly, wants to be there. A volunteer is worth 5 pressed adults!"
— Anonymous, secondary school educator
Familiarise yourself with your outdoor classroom
Make sure you know which resources are available at your site before the lesson begins! That way, you'll have everything you need before setting foot outside and won't need to keep returning indoors. Once you have a system for this, it gets easier.

— Jane, educator at a special school for children aged 4-19 in Leicester
"Take a walk to get a better understanding of your site and improve your own relationship with the natural world before you even think of taking a lesson outdoors!"
— Jane, educator for community groups and organisations in Ely
The location often inspires the content of the lesson, so I always explore the site beforehand to gain ideas and inspiration and familiarise myself with the surroundings.

— Susanne, multi-phase educator from Tbilisi
"Get to know your site really well, pick a topic you're confident with, and make sure you know as much as you need to about the young people you're teaching. That way, you can focus on enjoying the different skills, abilities, and opportunities for connection the outdoor classroom brings out in your pupils."
— Stephen, multi-phase educator from Abergavenny
Take your school culture into consideration
On average, secondary schools spend just 6 minutes a week learning outdoors. This is indicative of a significant cultural issue which positions outdoor learning as something 'unusual', and this leaves secondary educators who do teach outdoors feeling alone. We, therefore, need to return to the values of outdoor learning and its role in the intellectual, emotional, and social development of all young people at all levels. It is the right of every young person to spend time outdoors as part of their secondary school experience — and not just a one-off residential!

— Matt Robinson, COO and Scotland Director at Learning through Landscapes
For many pupils, the outdoor classroom feels less formal and this can be really beneficial for their learning, as well as their relationships with you as a teacher. The space, the setting, and the opportunity for teamwork mean that pupils often feel less nervous about making mistakes and trying things out, so learning outdoors can really ease anxiety.
— Cindy Grant, Training and Development Officer at Learning through Landscapes
Polished shoes, restrictive uniforms, and the expectation that pupils (and staff!) remain neat and tidy are not conducive to lessons in potentially wet, muddy, or cold outdoor environments. If your school dress code doesn't support learning outdoors, think about how you can get around this — and don't forget to take fashion and peer pressure into consideration!

— Matt Robinson, COO and Scotland Director at Learning through Landscapes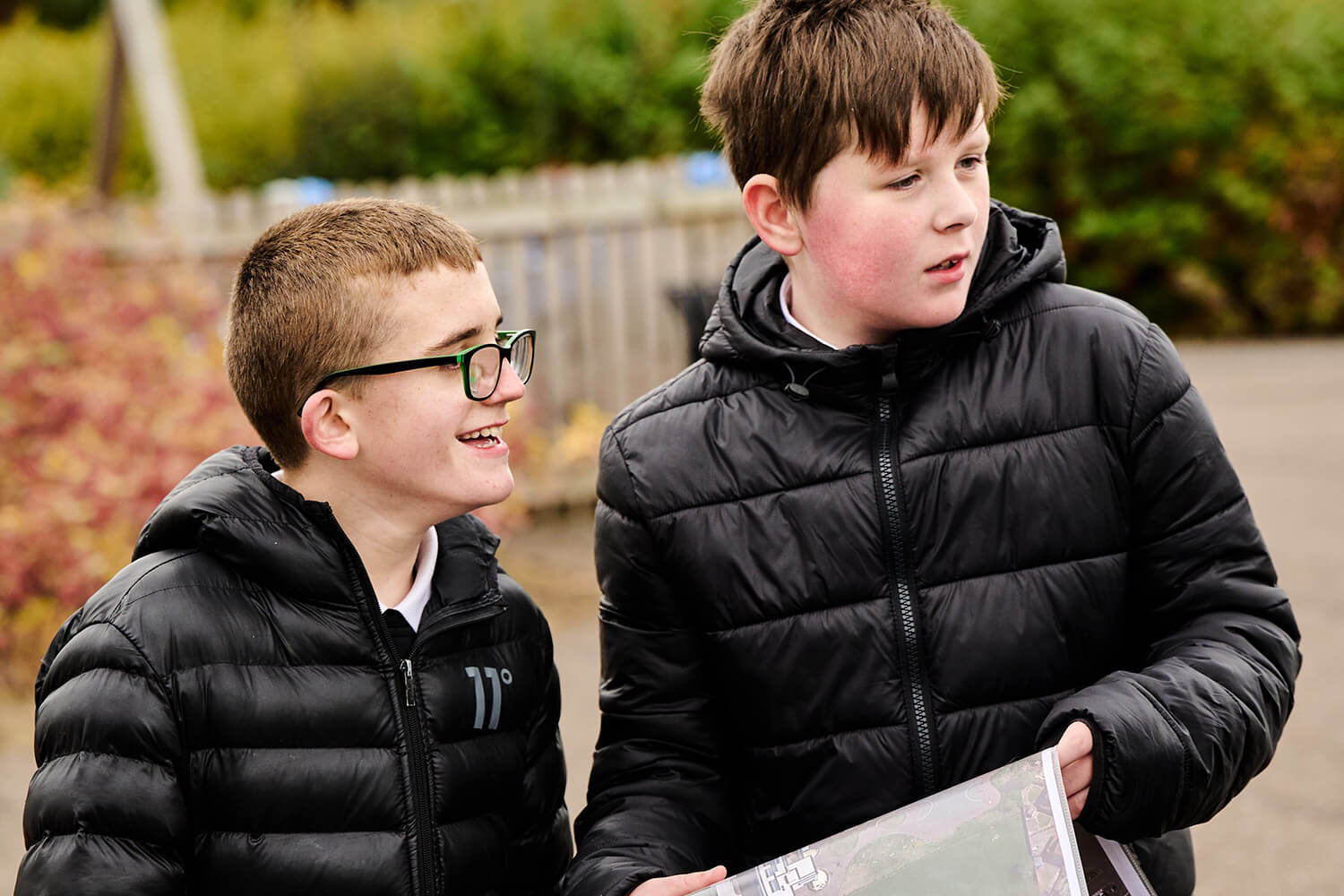 4 tips for teaching any subject outdoors
We offer a variety of outdoor lesson ideas covering a range of curricular areas, and these are especially helpful for discovering subject-specific activities to try in the outdoor classroom. In our previous posts in this series, we've talked about using our lesson ideas as starting points for cross-curricular learning. However, the subject-based curriculum can be less flexible at secondary school, and this does make cross-curricular learning a little more challenging.
Therefore, alongside some subject-specific ideas to try in the outdoor classroom, we wanted to share some tips, tricks, and activities to support teaching any subject outdoors at secondary school. Our Training and Development Officer, Cindy Grant, a former secondary educator and instructor for our Taking History Outdoors: Secondary online training course is here to walk you through them.
1. Start with indoor activities which are easily moved outdoors
When you're getting started, keep things resource-light and simple. For example, is there something you often demonstrate on a board that you could instead teach outdoors using chalk on the playground?
If you start by transferring indoor activities into the outdoor classroom, you can gradually embed outdoor learning into your teaching, building your confidence before you attempt more challenging activities. Keep records by taking photos of your pupils' learning so you don't need to repeat the lesson indoors.
2. Revise subject learning outdoors
Timelines, flowcharts, mind maps, and sequencing activities across any subject can be taken out into the school grounds using simple materials like chalk or printed words. These activities also offer a number of benefits for learning:
They offer a very visual and therefore memorable way to learn
The scale can help pupils to contextualise their learning
The transience of these outdoor activities reduces fears around making mistakes
The opportunity to move around encourages pupils to join in
3. Use lesson ideas which work for every subject
Activities which tend to generate a bit more noise — debates, role play, etc. — are ideal for moving into the outdoor classroom where you're less likely to disturb other classes. Our Talking Tokens lesson idea, for example, facilitates debate on your chosen topic across any subject.
For more ideas featuring techniques which you can adapt for your own subject, take a look at Walk Back in Time, Descriptive Alliteration Poems, Natural Equations, Modern Language Treasure Hunt, and Geocaching.
4. Don't force it!
Some subjects lend themselves to outdoor activities more naturally than others. If your subject isn't one of them, don't force yourself to move beyond your comfort zone too quickly. If you have a bad experience in the outdoor classroom, it'll discourage you from trying again, so don't beat yourself up if you find yourself limited to simple activities at first. Any time outdoors is better than nothing!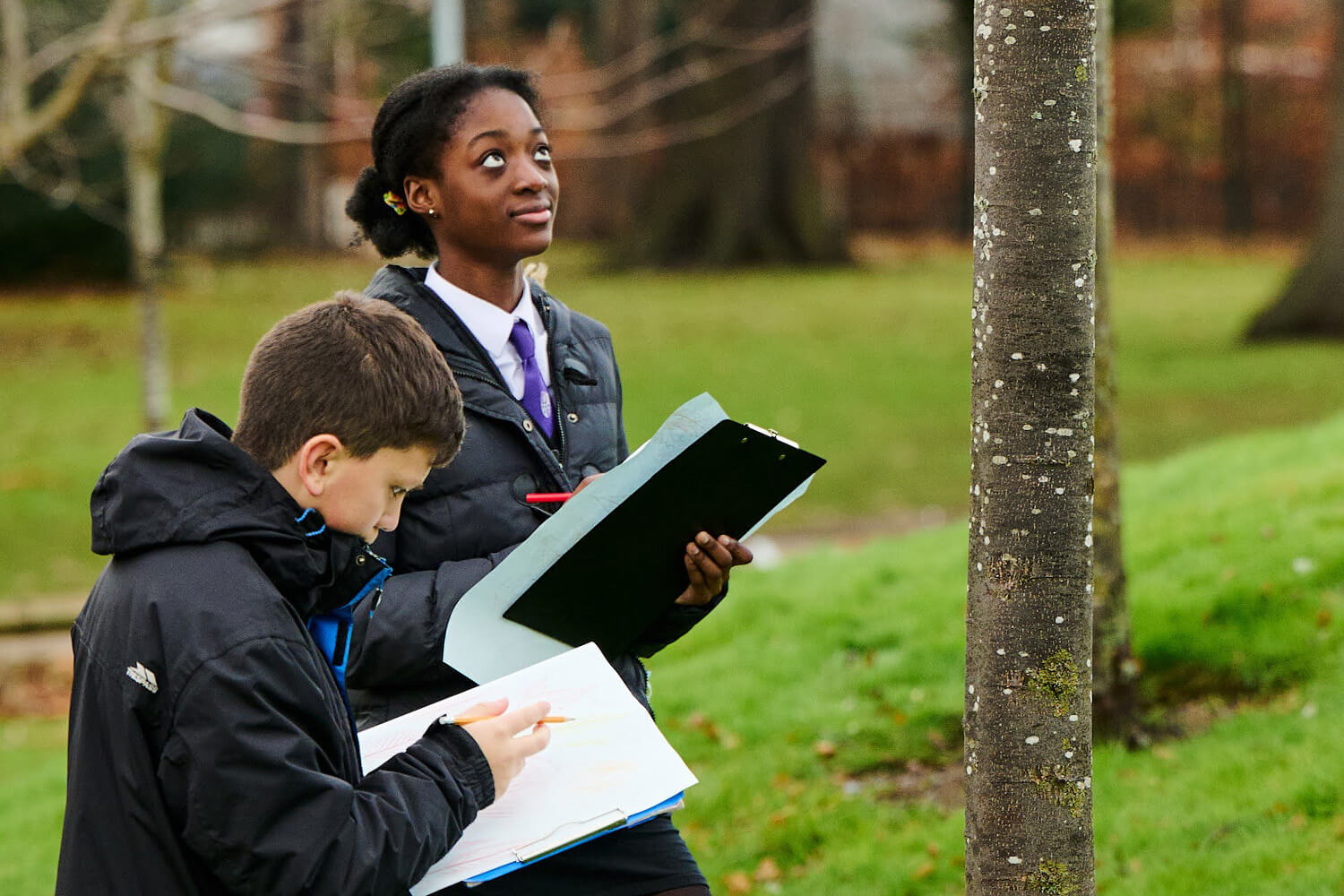 Discover more resources for outdoor learning
By now, we hope you're feeling prepared to take your secondary school class outdoors. Make sure to visit our secondary hub where you will find everything you need for outdoor learning at secondary, including lesson ideas, training, and guidance.
Make sure you're signed up to our newsletter to receive the latest outdoor learning news and opportunities direct to your inbox. For even more advice about outdoor learning in your educational setting, take a look at the rest of the posts in this series:
Why you should try outdoor learning this year
Our top tips for newcomers to outdoor learning
3 things you need to know about outdoor learning in the early years
5 barriers to outdoor learning at primary school and how to overcome them