5 ways to develop your school grounds for outdoor learning and play
School grounds play a vital role in a child's development, discover 5 key ways to develop your grounds for outdoor learning and play
Children are spending less and less time outdoors, in fact six in ten children are reported to be spending less time outdoors since the start of the pandemic, despite 94% saying that spending time outdoors made them feel happier. There is no escaping the fact that we need to provide more appropriate and engaging outdoor spaces for children to thrive – and a key space for doing this is our school grounds.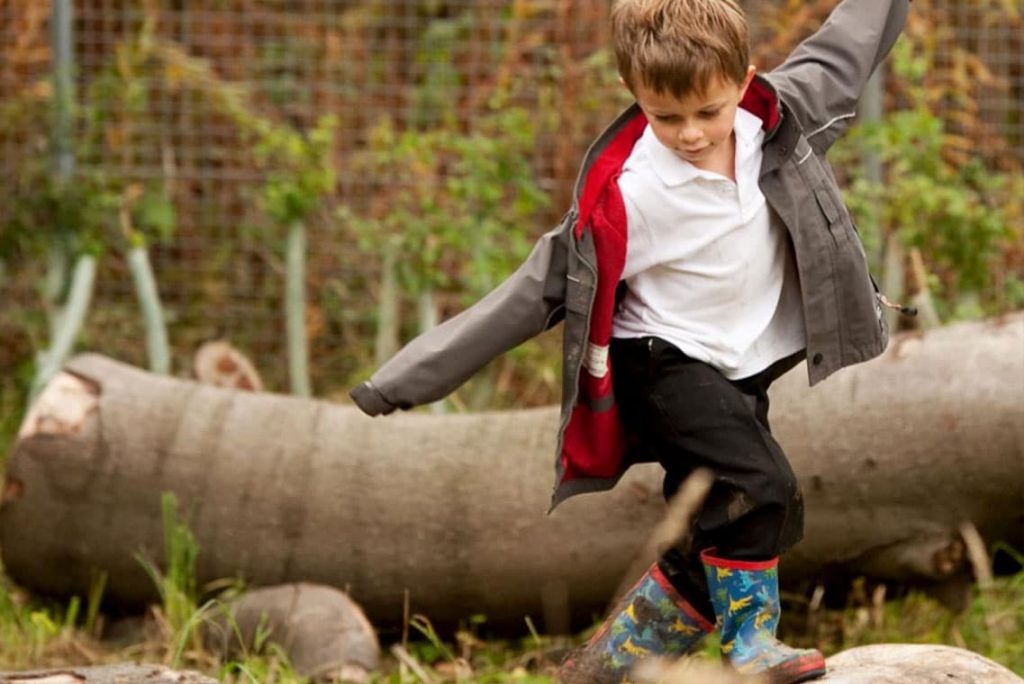 Too many children are still growing up in dull and uninspiring outdoor environments and missing out on life-enhancing experiences. The great news is that you don't need a huge outdoor space to create stimulating school grounds.
In this blog post, we will take you through our tried and tested methods for taking any type of school grounds and improving them to create an environment that meets children's developmental needs to explore, create, collaborate, socialise and simply to 'be' – all which we know are important for their emotional health.
Why do school grounds matter?
School grounds are vital spaces that can – and should – enhance childhood development in a magnitude of ways. While not all children have access to a nearby outdoor space, almost every child will have access to school grounds. We therefore need to ensure that school grounds are fit for purpose and provide everything that the child needs.
In addition, children spend a great deal of time in their school grounds: around 1,500 hours of their life. This presents an unparalleled opportunity to create something that genuinely has the power to improve their day to day experience of life. 
The outdoors is often a better place to learn than indoors, bringing learning to life and opening up opportunities that are simply unavailable in the classroom. And when children are closely involved in developing and looking after their outdoor environment, it helps to develop their sense of belonging, participation, respect and pride.
What are the benefits of school grounds?
A growing number of schools now recognise the benefits of school grounds and are providing outdoor spaces and experiences that support children's learning and wellbeing. This is important because school grounds can contribute to improved behaviour and social skills, deeper creative thinking, more physical activity and positive emotional wellbeing.
We are frequently told by schools that it is their grounds that stand as a barrier to them taking learning outdoors. They worry that their space isn't appropriate or even safe; and, as a result, they limit the time children spend outside.
More often than not, these worries can be solved with a few simple changes. And since school grounds are one of the best places for children to explore nature, engage in physical activity and play without boundaries, it's our duty to develop them as well as possible for outdoor learning and play.
What are 5 ways to develop your school grounds for outdoor learning?
There are many ways to develop and improve your school grounds: however, there is no one-size-fits-all approach. While individual schools will benefit from a unique viewpoint, there are some core areas worth considering.
1. Topography
Varied topography stimulates varied play. Mounds, hollows, slopes and tunnels will naturally encourage lots of running, rolling and jumping around. As well as being fun (a crucial reason in itself), this type of movement is great for physical development, supporting everything from the nervous system to leg strength and balance.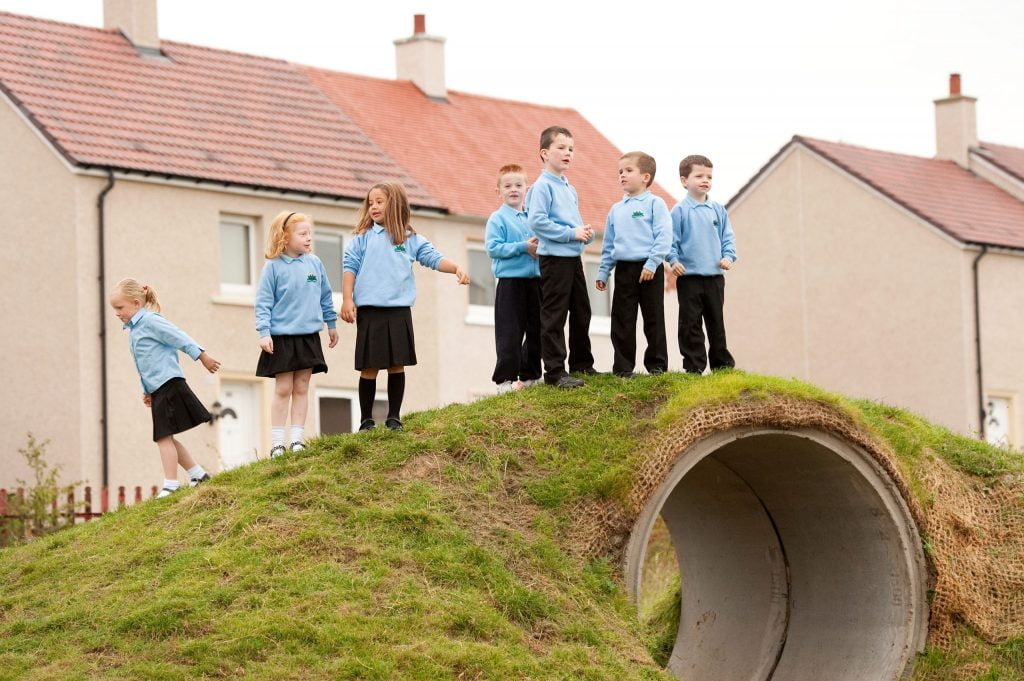 They also help to break up large open spaces into more interesting child-friendly micro-spaces that can become a context for more imaginative and small-world play. A good playground can immediately become a real life fairytale, or a home to imaginary creatures. The options are truly endless.
2. Trees, shrubs and grass
Open woodland is one of nature's richest playgrounds and many schools can easily replicate this kind of space in even a small area of their grounds. 
In addition, trees and shrubs help to create an atmosphere, provide peaceful seclusion, define spaces, create shade and add movement. They enrich spaces with their beautiful range of colours, smells and textures as well as their seasonal differences. They provide twigs, leaves and seeds that can become a huge bank of natural materials for play.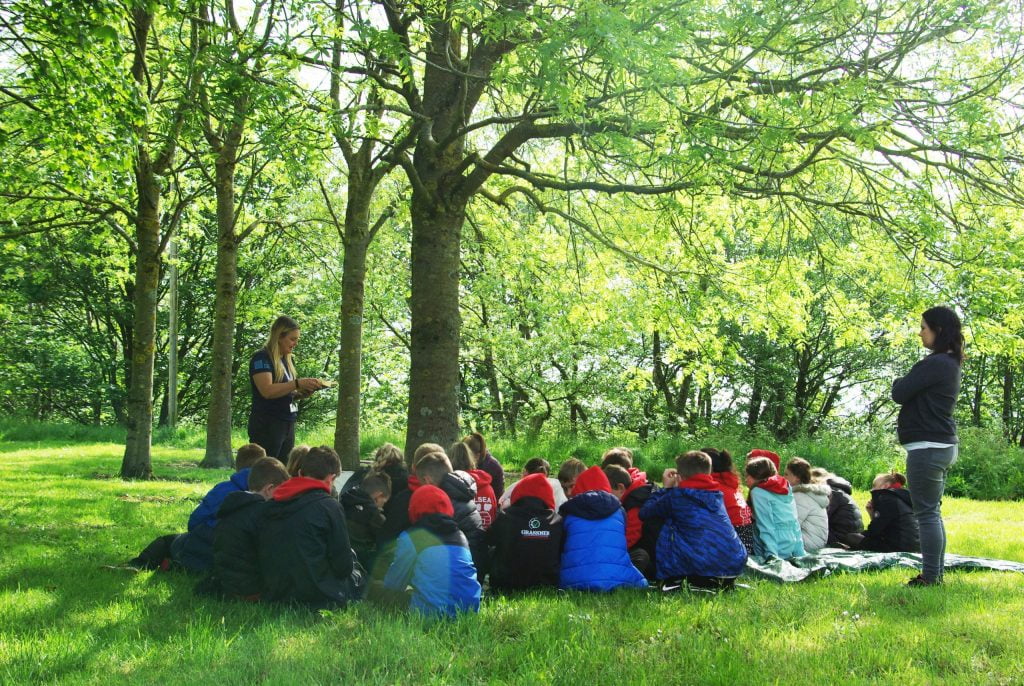 One of the simplest (and cheapest!) ways of creating a more varied landscape for play is through a varied mowing regime. Areas of longer grass mixed with pathways and glades of shorter grass will help to break up more monotonous stretches of grass and create a richer variety of spaces for play. This kind of habitat is better for insect life too – so children have more opportunity to interact playfully with nature and, as a result, deepen their connection to it.
3. Logs and boulders
Perhaps the ultimate non-prescriptive play feature, fallen trees and boulders can foster physical challenges, social spaces and opportunities to explore fossils and bugs. You can use them to create dens or leave them to be brought to life by the imaginative minds of children: spaceships, magical forests and castles are all of a sudden not so far away.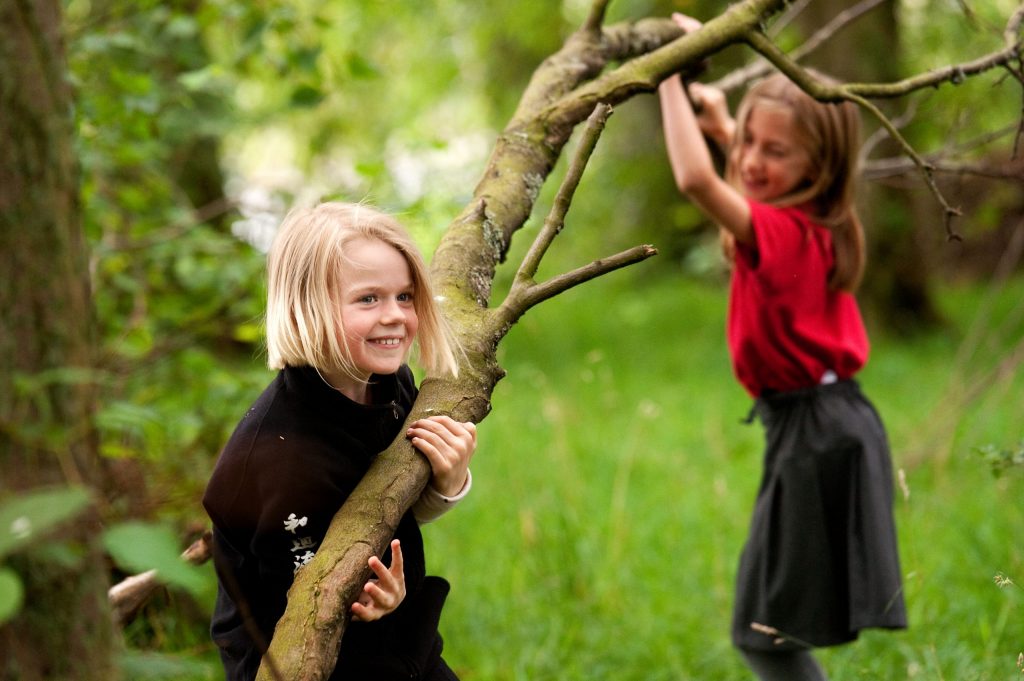 Logs and/or boulders can often be sourced cheaply from local contacts, such as a local woodland owner or quarry. It's an affordable way to make a huge impact.
4. Loose material
Children seem to have an innate desire to manipulate their physical environment and loose materials can be a positive contributor to this. Although there are costs involved in procuring, storing and managing loose materials, these can often be fairly minimal. Loose materials are therefore a great way to begin enriching play provision in schools (especially if budgets are limited). 
You can naturally collect certain loose materials directly from your landscape: mud, pebbles, seeds, grass, twigs, leaves, pruned branches and daisies are all brilliant examples of loose and natural materials. Other natural materials can be brought in, like shells, cones, hazel rods or wooden discs.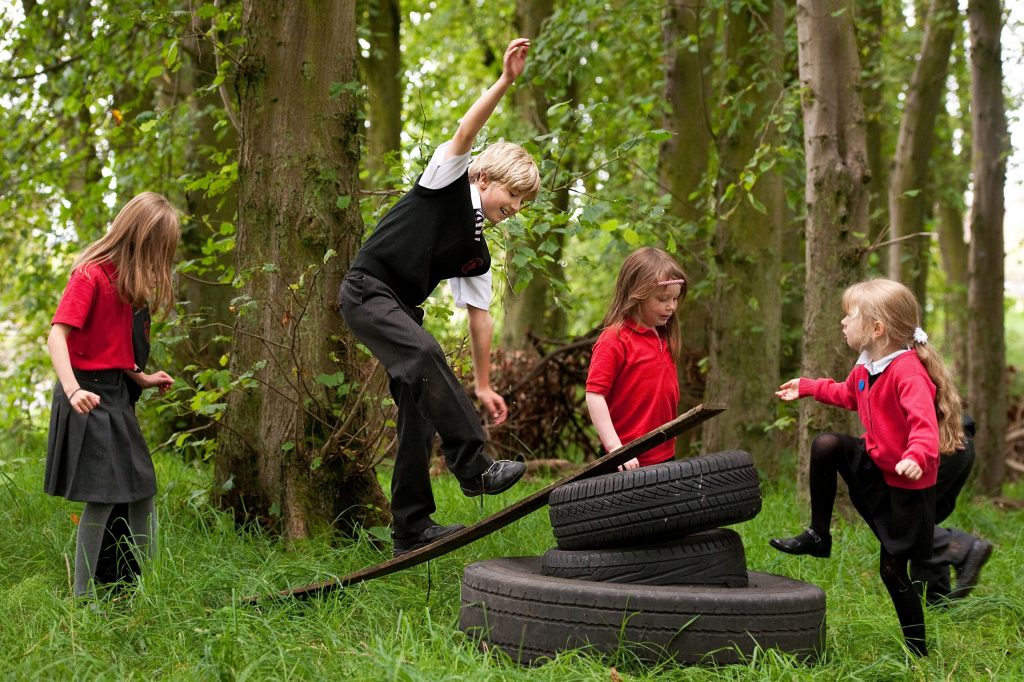 In addition to natural materials, some man-made items offer rich opportunities for play, such as:
Tarpaulins

Pipes

Rope

Plastic crates

Small toy figures and vehicles

Chalk

Planks

Joinery offcuts
These materials stimulate a wide range of play activities including den building, construction and the creation of fantasy or small world play scenarios. They are particularly effective in stimulating children's creativity and encouraging teamwork and collaboration.
5. Large sand play
Sand play has been considered a staple of the playground for a long time; however, now we are seeing how large sand play can also play a big role in supporting the curriculum. 
For example, maths concepts are supported through experimenting with volume, mass, and flow. Engineering abilities are developed as children construct and excavate. Motor skills are enhanced by digging, constructing, carrying and jumping and creativity is supported as children construct imaginary worlds. A common feature of sand play is the way that it promotes cooperation as children work together on their play projects.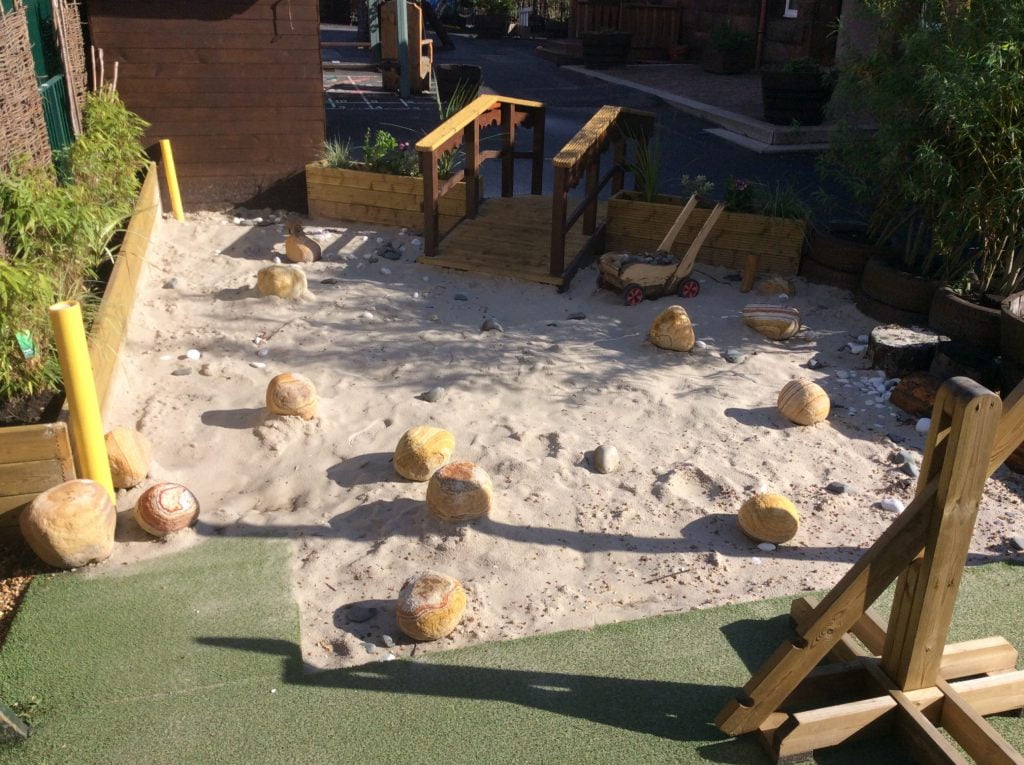 The best sand pits are large and custom-built on site but temporary sand pits are easy to create using tarpaulins filled with sand and surrounded by sleepers or tyres. The same kind of temporary structures can also be used for water play. 
If you don't have the capacity for an actual sand pit, you could simply designate a dry area of ground that children can use to dig and play
Can Learning through Landscapes help me improve my school grounds?
Whether you are looking to invest in developing your school grounds or are simply looking for help to maximise the use of what you have, Learning through Landscapes can help. With our School Grounds Advisory Visit service, one of our expert design consultants will conduct an audit of your school grounds, observe how they are being used during the school day and consult with staff, children and parents/governors.
Based on their visit, our consultant will produce a set of recommendations and advice. This is relayed verbally, through a follow up email and/or an extended advisory report.
If you are interested in arranging a visit for your school, contact us at training@ltl.org.uk