This Forest Kindergarten Course is taking place in Edinburgh, Scotland.
We are hosting other courses – please visit the Forest Kindergarten Training homepage to read more.
The Forest Kindergarten Award has been designed to specifically meet the needs of Early Years practitioners who would like to use outdoor spaces on a regular basis, for learning and play.
Candidates will be trained and equipped with all the knowledge and processes they need to be able to deliver Forest Kindergarten sessions within their own setting.
Outcomes
Preparing the Forest Kindergarten site – "The Place"
Planning and engaging with children and adults – "The People"
Setting up and leading Forest Kindergarten sessions – "The Activities"
Format
The programme consists of:
Registration and pre-course reading.
A 3-day interactive course which includes practical activities, observation of children and professionals, input and training on specific issues.
A post-course portfolio of work, which when complete is aimed at ensuring candidates have the knowledge and processes in place to run their own Forest Kindergarten.
Submission of the portfolio for marking by an LtL Assessor. A successful Assessment will lead to Awarding of an SQA & LtL Forest Kindergarten Award, with digital and physical certificate.
Resources
Candidates will be supplied with an SQA Workbook, wider resources and all Assessment materials.
Candidates do require suitable outdoor clothing for any weather foreseeable, including wet and cold conditions. While we will adapt the course as needed to extremes of weather, we do not expect to alter the plan.
Certification
Forest Kindergarten Course is a National Workplace Award, credited at Scottish Credit Qualifications Framework (SCQF) Level 7, equivalent to National Vocational Qualification Level 4 or Higher National Certificate (HNC). The qualification is relevant to anyone in the UK (and beyond), not just Scottish residents. You can compare Qualification levels here.
Your nursery or early years setting will also be qualified to display the Learning through Landscapes Forest Kindergarten accreditation logo on your website: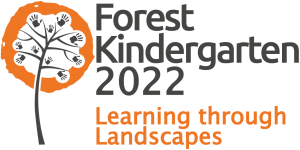 Venue and Timing
The event is on 18th-20th May 2022, 9am-5pm each day.
Venue: Bonaly Scout Centre, 71 Bonaly Rd, Edinburgh EH13 0PB