Lose yourself in loose parts play
Hello! I'm Steve Moizer, one of the Training and Development Officers at Learning through landscapes, based in the Scottish office on the beautiful University campus in Stirling.
For many years now we have been offering advice and guidance to nurseries and schools across the UK with planning, introducing and sustaining access to loose parts play outdoors. Interest in this type of outdoor play and learning shows no signs of waning and it's not surprising when you look at the extensive range of benefits this type of easily accessible, cheap activity offers children of all ages and in all weathers.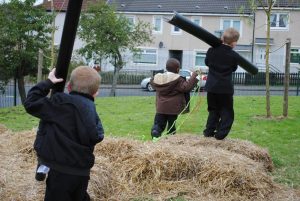 Access to a wide range of loose play materials (anything from small world cars and figures to pipes, boxes, wooden planks and den building kit) offers children the chance to be creative and imaginative at their own pace. Suitable for use in any outdoor space, children who find play with open-ended materials more of a challenge are supported by watching and learning from others.
Playing alone or in a group, loose materials encourage children to see their outdoor environment in a different way (why shouldn't that picnic table in the corner form the base of a space ship?!), to mix and match both man-made and natural materials and to make interesting use of all those nooks and crannies around the grounds. Providing child-friendly access to loose materials outdoors can meet the needs of all children, from the most physical to the most sedentary.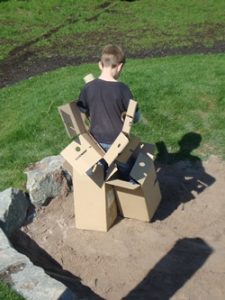 Many nurseries we support already access loose materials to varying degrees, but often this valuable experience is lost as children transition into primary. Building on these experiences in the first year of primary and beyond helps ensure learning progression as well as maintaining continuity regarding the important messages about risk-benefit and responsibility.
There are lots and lots of cross-curricular links in accessing loose materials outdoors, as well as developing key skills such as communication, perseverance and problem-solving. Many of the schools we support make use of the resources to support outdoor learning, bringing aspects of different topics alive through re-enactments, role play, outdoor art, construction and games.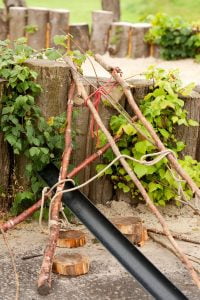 Child accessible outdoor storage is vital if access is to be child-led from the outset. Outdoor storage allows children to self-select materials during both break time and class time, and supports tidying away if materials cannot be left out when not in use. Establishing a pupil group, with support from a member of staff, who access the storage unit to lift materials in and out avoids a bottleneck of children all trying to access the unit at the same time and ensures materials are tidied away safely so that everything is accessible next time the doors are opened.
So, imagine making a simple change to your grounds that supports children's play, and social development in a low cost and sustainable way, as well as supporting outdoor learning and the development of key life skills. Here at LtL, we can offer advice, guidance, play training and practical experience to help support you on your journey – just get in touch and we'll be happy to help!
Some helpful loose parts play resources:
The Loose Parts Toolkit for schools.
Our free online training for play in schools – Playtime Revolution. If you would like this training in person, we can come to your school or nursery and train all your staff.
Our overview of play in schools – why, how and inspiration – The Good School Playground Guide
We have an overview video of our project developing natural play in primary schools.
Finally, our video about loose parts play in school, with matching loose parts play book to help you.