An Advisory Visit to a nursery in the Scottish Borders
A few months ago Jane Mackenzie, Training and Development Officer at Learning through Landscapes, carried out an Advisory Visit at a small nursery in Scotland. This is the story of what Jane saw at the nursery, the advice and help she provided, and what the nursery did as a result.
Fogo is a very rural nursery in the Scottish borders and had a traditional tarmac playground where they'd started adding loose parts. They had lots of resources, but the organic development of the grounds had ended up feeling a little cluttered and lacked a coherent design. This resulted in a large area where bikes interrupted loose parts play and a badly positioned sandpit meant sand was tracked into the classroom, creating its own challenges. Large, fixed play items took up space in key areas and left the remaining space feeling congested.
In June 2021 I consulted with staff and children during the advisory visit and the same themes emerged from all the conversations – the bikes were a problem, as was shade and a lack of sensory spaces. The woodworking area was in a high traffic zone and a patch of old safety surfacing had created a trip hazard.
I used the Learning through Landscapes "process of change" to encourage staff to think, not just about what they wanted to have in their space but also what they wanted to be able to do and how they wanted the space to feel for their learners.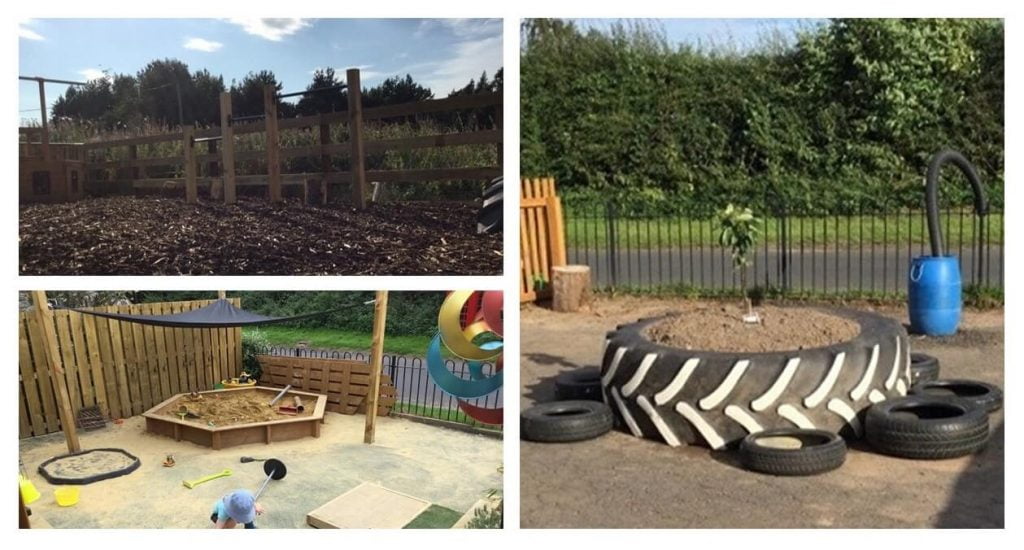 I worked with Kim Thumwood, the manager of the nursery, to consider the use of space and left her with a series of suggestions and signposts to resources which would help them on their journey. Kim told us:
It was so very helpful to have Jane from LtL to advise us on our outdoor space development. She came for the day and spent time getting to know about our setting, talking with staff, children and parents too. She was then able to tailor her advice to meet our needs. She suggested alternative options to ones we had been considering and gave reasons to support her thinking.
They've already implemented many of the suggestions, utilising local suppliers and parents in their community, and have made a great start to their journey. Kim added:
We are delighted with how some of these ideas look in our new space. Jane's suggestions on how to make it look natural and make best use of the space available has allowed our children to spend lots of time outside, exploring, discovering and learning!
Our Advisory Visits provide the direction, priorities and planning for improving the spaces and practice of outdoor learning and play. Our experienced staff will observe, consult and consider your current space and the use of it. From that we provide a report of priorities, suggestions, critical feedback and more. Please get in touch if you would like to arrange an Advisory Visit for your school or nursery.